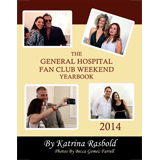 The General Hospital Fan Club Weekend Yearbook – 2014, By Katrina Rasbold –  New couples, new babies, famous spouses, Hollywood royalty, a bit of a smack-down from Executive Producer, Frank Valentini, two Rabbis, plenty of selfies, a double-helping of Michael Corinthos, a male heart-throb who broke all of our hearts on screen, a current GH couple who ditched us, graphic novels straight from ComiCon, impossible schedules, careers made and broken, dogs and cats living together… this year had it all!
New this year: an Actor's Index at the end of the book listing page numbers for photos of each actor.
Last year's yearbook sold out in ten minutes at the 2014 GHFCW Main Cast Luncheon and was featured in ABC Soaps In Depth!
Click below to order:
Black and White Interior    Color Interior