The General Hospital Fan Club is proud to announce that we are offering a number of wonderful General Hospital items for sale!  If you missed these at the GH Fan Club Weekend, you can get them now or if you didn't get to the weekend.  They make wonderful gifts for the General Hospital Fan!
To order, click on the "Buy Now" button below the item's image:
Port Charles Police Department Coffee Mug – $20.00 (Free US Shipping)
♥
Memo/Picture Heart Holder – $7.00 (Free US Shipping)
(GH 50th picture sold separately)
♥
GH 50th Picture (shown above in Memo/Picture Holder – Free US Shipping)
♥
Tote/Grocery Bag – Red – $11.00 (Free US Shipping)
♥
GH Shot Glass  – $7.50 (Free US Shipping)
♥
Payment:  For the above items, PayPal or credit card payments are accepted through the "Buy Now' buttons provided.
Payment is also accepted by check or money order made out to:
Michelle deMoss 11353 Quail Creek Road Northridge, CA 91326.
Please clearly state what you are ordering, total amount and your shipping address. Please include contact information in case of questions.  Items will be shipped once check or money order has cleared.
The items listed above are of limited quantity.
♥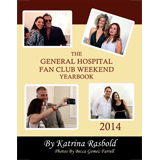 The General Hospital Fan Club Weekend Yearbook – 2014
_____________________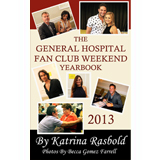 The General Hospital Fan Club Weekend Yearbook – 2013
_____________________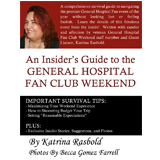 An Insider's Guide to the General Hospital Fan Club Weekend
"This book is 100% totally accurate. Having attended SEVERAL of these events, I would highly recommend reading this prior to attending. In fact, if you are simply a General Hospital fan, read the book. There are stories and secrets and fun stuff in each years edition."  …Reader & Reviewer
"Katrina captures the experience of the General Hospital Fan Club Weekend with unabridged honesty, humorous, truthful tales of unbelievable and unforgettable moments that postively and lovingly spotlights both the graciousness of the actors and the enthusiasm of the fans. The collection of personal anecdotes, hundreds of photos, and insider information about how to prepare" to attend this four-day extravaganza is a MUST HAVE for not only those fans who wish to attend, but also ANY fan who has loved this 50 year young daytime icon!"  …Robin Plate
"This book is the closest you can get to the hysteria of the GH Fan Club weekend without actually being there. Lots of helpful information for newbies and reminders of the fun that is fandom for those who have experienced it first-hand. And great shoe-cam pics as well!!"  …P.Catchouny
 Print version (b&w)       Print version (color)
_____________________