The General Hospital Fan Club is proud to announce that we are offering a number of wonderful General Hospital items for sale!  If you missed these at the GH Fan Club Weekend, you can get them now or if you didn't get to the weekend.  They make wonderful gifts for the General Hospital Fan!
GH Gift Set (4 items)
$22 with FREE SHIPPING  (for all 4 items)
Nurses Ball Shot Glass
Crimson Swarovski Pen
Heart Shape Magnet Clip
Cosmetic Bag
♥
Denim Backpack
$45 with FREE SHIPPING
12" wide x 14 ½" tall x 4 ¾" deep adjustable straps, center flap with buckle and snap closure, multiple zippered pockets
♥
Denim Hobo Bag
$50 with FREE SHIPPING
12 1/2" wide x 9 ½" tall x 4" deep flap, double zip opening on top, zippered wall and back pockets 2 different straps
♥
Denim Small Crossbody
$35 with FREE SHIPPING
8 ¼ x 8 ¾, adjustable strap, front zipper pocket, zipper top opening
♥
GH TOTE BAG (does not include magazine)
$15 with FREE SHIPPING
♥
How to Order:
Send Check or Money order to:
GMCYBERMART
11353 Quail Creek Road
Porter Ranch, CA 91326
OR
Send payment via Paypal to:
mdmholly@earthlink.net (include $3 extra to cover PayPal fee).
Remember to include your shipping information and to list the items you wish to purchase.
♥
And from Amazon.com…
Veteran General Hospital Fan Club Weekend staff member, Katrina Rasbold, shares the favorite photos and memories of twenty General Hospital fans, spanning the lifetime of the event. Included are autograph spaces and pages for signing events and an index of actors included in the book and a page reference to their photos.
♥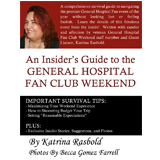 An Insider's Guide to the General Hospital Fan Club Weekend
"This book is 100% totally accurate. Having attended SEVERAL of these events, I would highly recommend reading this prior to attending. In fact, if you are simply a General Hospital fan, read the book. There are stories and secrets and fun stuff in each years edition."  …Reader & Reviewer
"Katrina captures the experience of the General Hospital Fan Club Weekend with unabridged honesty, humorous, truthful tales of unbelievable and unforgettable moments that postively and lovingly spotlights both the graciousness of the actors and the enthusiasm of the fans. The collection of personal anecdotes, hundreds of photos, and insider information about how to prepare" to attend this four-day extravaganza is a MUST HAVE for not only those fans who wish to attend, but also ANY fan who has loved this 50 year young daytime icon!"  …Robin Plate
"This book is the closest you can get to the hysteria of the GH Fan Club weekend without actually being there. Lots of helpful information for newbies and reminders of the fun that is fandom for those who have experienced it first-hand. And great shoe-cam pics as well!!"  …P.Catchouny
 Print version (b&w)       Print version (color)
_____________________